We all know how important swim lessons are. They have many benefits physically, socially, and emotionally! But what about open swim time, where kids can have free-play in a non-structured environment? That has some great benefits, too!
Kids get to work on skills they learn in swim lessons and apply it in a practical way at open swim.
Sure, we make swim lessons fun, but they are still a structured learning time. The real fun of swimming comes when they have learned a skill, and they get to practice it! Jumping in the pool, for example, is a necessary skill to learn but it's also a ton of fun. Who doesn't love cannon balls? This is a great way to get your family comfortable and ready for vacation!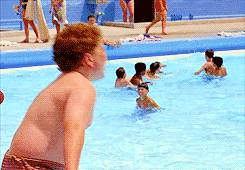 It's an affordable family bonding opportunity!
Did you know that  family open swim is FREE for children in lessons? If your child is lower than a level 3 a parent can also accompany them, free of charge. After that, it's only $5 per person! Where else will you find something for the whole family at that price? #nobrainer. Not to mention that our pool is open after business hours, so you can wind down after work and school.
At King's, we are proud to offer this as a benefit to our members because our goal is to get every family swimming in a safe, and fun way!
Here are our Family Open Swim hours:
San Mateo
   Sat – from 4:45 pm to 5:45 pm