Fall and Winter – all that's on most people's mind are pumpkin spiced lattes and Christmas shopping. Why on earth would we be in winter swim lessons?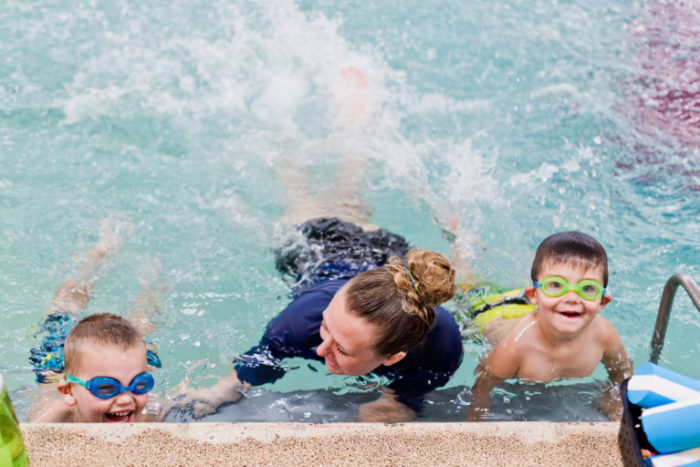 Kids loose progress from long breaks!
Here's the thing; when you enroll your child in swim lessons only during the summer, they don't have the skills already set up for that current year's water activities. But what if they were beyond ready for any water-related vacation or activity BEFORE summer? Sure, lessons in the summer are fun and relieving from the heat, but let's face it – staggering your child's swimming progress to 2 months every year isn't going to get them very far. They'll forget most things they had practiced, meaning you'll need even more summers of lessons before you're comfortable just watching them from the side.
Your child will not get too cold. 
A lot of parents worry their children will get too cold during winter swim lessons and therefore get sick. That is a myth! The cold air itself does not cause sickness. Viruses make people sick! Cold air can make someone less resilient to a cold or virus, but it is not the cause. In fact, regular exercise builds the immune system, hence, making it less likely that your child will get sick in the winter. King's Swim Academy's indoor pools are heated to 90 degrees, making it the perfect escape from the cold air outside. #booya.
It's a great activity to get out of the house!
Poor weather makes it hard to get out of the house and be active. Many families look for indoor activities for their kids during winter. Look no more! Winter swim lessons burn off energy, cure cabin fever, and gets them ready for nothing but fun by the pool in the summer.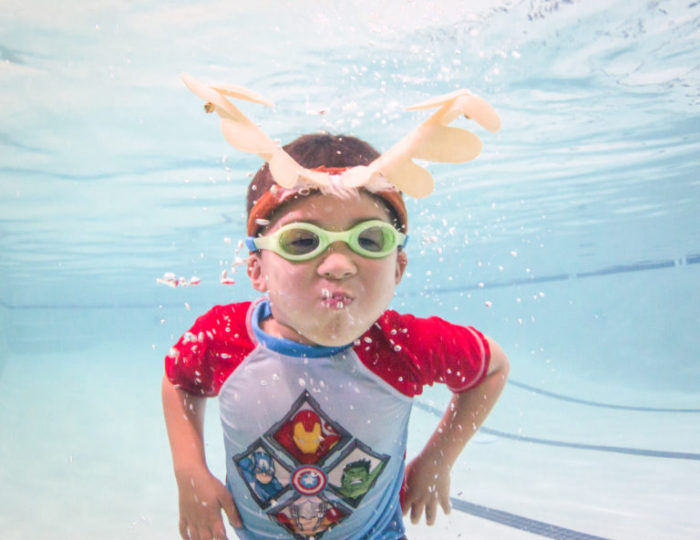 This little guy is spending time in the water during Christmas season – he'll definitely be ready for water independence for summer! Don't you love those antlers?
Where can you find family open swim (year-round)?
At King's Swim Academy, we offer FREE open swim for students that are enrolled in on-going lessons and only $5 per additional family member. If your child is a level 2 or lower, a parent may accompany them for free.
We have several options:
Redwood City – 9am-12pm Saturday, 3:15-7:00 pm weekdays. Students at this location get open swim 30 minutes before or after their lesson!
San Mateo – 4:45-5:45 pm Saturday
Whether safety is your concern or you just want something for your kids to stay active during the cold months, swim lessons are a great investment! We have seen many children go from 0-60 during the winter and they were able to swim all summer, with worry-free parents.